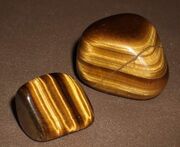 Information originally posted by Carrie:
Tiger's Eye (Tiger Eye) is a stone of protection that is also very grounding. It enhances integrity, willpower, practicality and correct use of power. It is a stone that enhances good luck, and brings prosperity, often in the form of money. Tiger's eye is also a very protective stone which is especially protective during travel. It can also help one see clearly without illusion. Tiger's eye brings a special boost to the solar plexus chakra and to one's personal power
Ad blocker interference detected!
Wikia is a free-to-use site that makes money from advertising. We have a modified experience for viewers using ad blockers

Wikia is not accessible if you've made further modifications. Remove the custom ad blocker rule(s) and the page will load as expected.