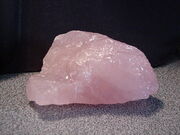 Posted in by three members of GS so the information will be posted by who discovered what!
Posted by Carrie:Edit
Rose quartz is a stone of unconditional love. It opens the heart chakra to all forms of love: self-love, family love, platonic love, and romantic love. Rose quartz has excellent protection energies during pregnancy and childbirth. The elevated energy of quartz gives rose quartz a property of enhancing love in virtually any situation. It also brings gentleness, forgiveness, and tolerance. Rose quartz is also said to be helpful with weight loss. Rose quartz is associated with the heart chakra
Posted by Stephie:Edit
It is said that Rose Quartz was imported from Sri Lanka, India, and Russia, by the Romans. It was valued highly for its healing properties, but also b/c it is beautiful!
Rose Quartz is rare as it is clear, most quartz is cloudy/smoky.
Posted by Jen:Edit
Rose Quartz Gemstone meaning-------
Your marriage can have more sparkle and fire when you keep a rose quartz under your pillow. You will look younger too. Rose quartz is known as the love stone. It helps the user feel a strong sense of self-worth, therefore being worth love. Rose quartz is the stone of universal love. It is also the stone of love in marriage. When worn in jewelry the wearer feels a sense of self-worth.

Healing properties of Rose Quartz-------
Rose Quartz has a gentle vibration of love for the owner. It gives inner peace and helps in all matters pertaining to love in all its forms. Rose Quartz opens the heart to love. It also helps as a rejuvenator to the skin. It is a lovely stone for a young person. It is said washing the face in water charged by rose quartz will help fade winkles and keep the skin young. http://www.crystal-cure.com/rosequartz.html
ANOTHER WEBSITE SAID:
Rose Quartz Crystal Meaning----
The Love Stone strokes the heart into forgiveness and compassion by helping you to let go of stored anger, resentment, guilt, fear, and jealousy. Eases sexual and emotional imbalance. Learn how to love yourself with this stone.
Magical Use -Balance emotions, self-esteem, self-confidence, compassion, peace, patience, forgiveness, enhance capacity to love others and your self.
Healing Use - Spleen, kidneys, circulatory system, increases fertility, promotes the release of impurities, genitals, skin, depression and weight lose.
http://www.shamanscrystal.co.uk/crystal/38...rtz-rose-quartz
Another website
Also mentions on this site.. Taurus and Libra Stone
http://www.sobrietystones.com/resources/Ge...rose_quartz.htm