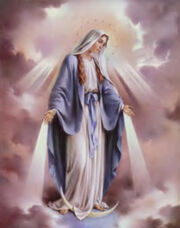 For those of you who work or who would like to work with Mother Mary, whether you know of her through Christianity or as an ascended master or a goddess, today (25.3.08) is the Anunciation in the Christian calendar.
This marks the visit of Angel Gabriel to Mother Mary to bring the message that she would become mother to the Son of God, as told in the Bible.
I would say this would be an optimal time for working with her.
I've been working with her as part of my daily devotions as I have been in need of physical healing; I will be saying the Hail Mary 9 times instead of 3 times today. I may even bring home my little Madonna statue which I got from Spain from my mum's.
Just in case anybody does not know it, the Hail Mary:
"Hail Mary,
Full of Grace,
The Lord is with thee.
Blessed art thou among women,
and blessed is the fruit
of thy womb, Jesus.
Holy Mary,
Mother of God,
pray for us sinners now,
and at the hour of death."