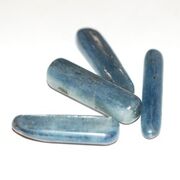 All information originally posted by Carrie:
Kyanite is a stone of channeling, altered states, vivid dreams, dream recall, and visualizations. It gives protection during these states. It brings loyalty, honesty and tranquility, and diminishes anger and confusion. Kyanite does not retain negative energy and never needs energetic cleansing. It does align and balance all chakras, often very suddenly. Kyanite can remove energy blockages. Green Kyanite is particularly good for balancing the heart chakra and maintaining heart balance. Blue kyanite is associated with the throat chakra and is a boost to meditation. Black kyanite is also a boost to meditation, and is associated with the root chakra. Black kyanite is also very protective and deflects negativity.
Ad blocker interference detected!
Wikia is a free-to-use site that makes money from advertising. We have a modified experience for viewers using ad blockers

Wikia is not accessible if you've made further modifications. Remove the custom ad blocker rule(s) and the page will load as expected.