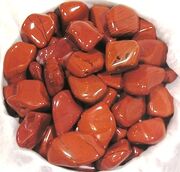 All information originally posted by Carrie:
Jasper is a stone of gentleness and relaxation. It enhances one's ability to relax and brings tranquility, comforting, wholeness, healing, and gentle endings. It is sometimes called the nurturing stone for its nurturing and protective energies. Psychically, jasper is used to assist with astral travel. In the physical realm, jasper is used for the liver, gallbladder, soothing the stomach, and balancing yin/yang energies. Jasper is a variety of quartz, so it also has the metaphysical and healing lore energies of Quartz.
Ad blocker interference detected!
Wikia is a free-to-use site that makes money from advertising. We have a modified experience for viewers using ad blockers

Wikia is not accessible if you've made further modifications. Remove the custom ad blocker rule(s) and the page will load as expected.