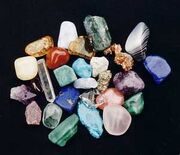 Dedicating your crystal is a simple process that requires only a few quiet moments and defines your intention for co-creation. Your intention, during the dedication, describes to your crystal how you want it to work with you and sets the crystal's light vibration in harmony with your intentions.
Awareness is the key. Visualize the idea of "love, light, and for the good of all" as part of your activation. Doing so will neutralize any subconscious vibrations that could influence this process.
Focus on the positive as you bond with your crystal. For example, "I affirm abundance and prosperity for myself and all beings." Or "I am ever protected by the Light. Good comes to me and good comes from me."
Visualize "vertical" energies from the cosmos and the Earth "beaming" into your stones when you dedicate them. You may also work with a particular type of light, for example, gold light, clear light, or Reiki energy. Gold light is a divine creative energy that's wonderful for dedicating stones because it is in harmony with the spirit in the body (the divine human) and awakens the subtle healing powers of compassion within the crystal you are dedicating.
Begin your dedication by cleansing, recharging your crystal. When you are ready to sit down with your crystal, choose a quiet place where you won't be disturbed. Close your eyes & breathe. Center your energy and allow your attention to follow. Hold your crystal in your hands. Repeat your intention to yourself until you are clear. Project the thought of this intention into the crystal. If the crystal has a primary transmitter (3-sided) or channeling (7-sided) face, direct your attention to one of these faces. Repeat your conscious intention three times. Your crystal is now dedicated!