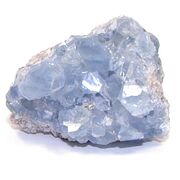 All information originally posted by Carrie:
Celestite is said to be an angelic stone. It can connect you to all aspects of the angelic realm, and to angels themselves. It is said that celestite was given powers by angels to raise consciousness, and to bring guidance from the angels. Emotionally, celestite is excellent for emotional protection and to end worry, fear, and anxiety. In this way it decreases negativity. Celestite is a great tool for meditation, as it help focus on that other than of this world and block out distracting "noise". Celestite purifies the aura, and perfects the chakras. It is a stone that brings balance, especially to thought processes and communication. Psychically, celestite is an excellent tool for astral travel. In the physical realm, celestite is used for healing eye problems, mental disorders, cellular order, eliminating toxins, digestive problems. Celestite is associated primarily with the throat and crown chakras.
Ad blocker interference detected!
Wikia is a free-to-use site that makes money from advertising. We have a modified experience for viewers using ad blockers

Wikia is not accessible if you've made further modifications. Remove the custom ad blocker rule(s) and the page will load as expected.