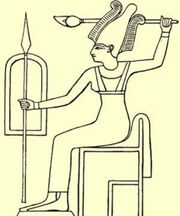 http://www.touregypt.net/featurestories/anat.htm
'Anat in Egypt
Anat first appears in Egypt in the 16th dynasty (the Hyksos period) along with other northwest Semitic deities. She was especially worshipped in her aspect of a war goddess, often paired with the goddess `Ashtart. In the Contest Between Horus and Set, these two goddesses appear as daughters of Re and are given in marriage to the god Set, who had been identified with the Semitic god Hadad.
During the Hyksos period Anat had temples in the Hyksos capital of Avaris and in Beth-Shan (Palestine) as well as being worshipped in Memphis. On inscriptions from Memphis of 15th to 12th centuries BCE, Anat is called "Bin-Ptah", Daughter of Ptah. She is associated with Reshpu, (Canaanite: Resheph) in some texts and sometimes identified with the native Egyptian goddess Neith. She is sometimes called "Queen of Heaven". Her iconography varies, but she is usually shown carrying one or more weapons.
The name of Anat-her, a shadowy Egyptian ruler of this time, is evidently derived from "Anat".
In the New Kingdom Ramesses II made 'Anat his personal guardian in battle and enlarged Anat's temple in Pi-Ramesses. Ramesses named his daughter (whom he later married) Bint-Anat 'Daughter of Anat'. His dog appears in a carving in Beit el Wali temple with the name "Anat-in-vigor" and one of his horses was named 'Ana-herte 'Anat-is-satisfied'.